Remote Override Switches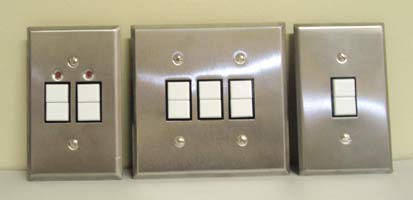 Remote override switches require 2 wires per switch (4 wires for switches with LEDs). The switches are single-pole, double-throw, momentary contact type switches, at low voltage. The switch input lines are fully protected against discharge and short circuits.
All switch input lines are programmable. Any switch may be assigned to control any or all relays in any combination. dual colored LED is available for each switch - Red for "ON" - Green for "OFF".
Click on the name below to view the respective switch diagram: