The LCS 2-T Relay Processing Panel (RPP)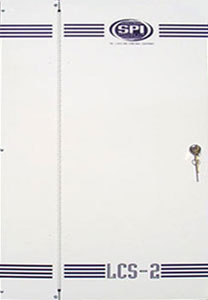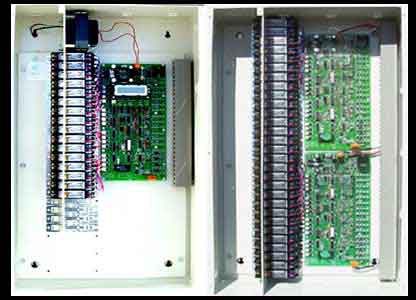 Product Overview
The LCS 2-T is the latest generation of computerized lighting control systems utilizing microprocessor technology. The LCS 2-T offers effective control of the energy consumption in large and small buildings. The LCS 2-T system is designed for standalone operation, which is programmed through the LCD display on the CPU Board for smaller applications and in a network for larger more complex applications.
The LCS 2-T control system central component is the Relay Processing Panel (RPP). The RPP is capable of supporting up to 48 inputs (e.g., switches) and 48 relay drivers each capable of driving 2 relays. The output relay design accommodates Panasonic HID lighting relays. Inputs are powered by the RPP therefore, no external power is required. The inputs accommodate contact closure devices such as switches and motion detectors. The LCS 2-T product line includes momentary contact lighting switches. Each switch has a Dual color LED for on/off status, which is powered by the RPP.
The RPP is designed for flexibility in configuring the inputs and outputs. Output relays can be programmed separately or programmed to "follow" a relay. Inputs are programmable to control multiple output relays. As a network, all inputs and outputs are addressable and programmable from any RPP. Creating a seamless network of panels. Programming is accessible through an RPP (LCD Display), or a laptop plug-in, or a networked PC, or modem. This system's features include an optional modem connection for off site control, monitoring and troubleshooting.
The scheduling function features a 9-day format. Days 1 to 7 are defined as Monday to Sunday and days 8 and 9 as Holiday schedules. Each day schedule can perform 10 "on" and 10 "off" commands. Every output relay has 9 day scheduling capability.
Scheduled "off" commands can activate a "flicker warning" feature. The "flicker warning" will alert the occupants that the lights are scheduled to turn off. This allows the occupants time to override the "off" command using a wall mounted switch. The zones controlled by the switch are fully programmable. The extended occupancy time can range from 1 minute to 2 hours.
Features
Standalone or networked micorprocessor based lighting control panel
Up to 24 relays in 16 zones - Panasonic HID
Relay "follow" programming
9 day per week schedules (2 holidays)
10 "on" & 10 "off" commands per day
Occupants "after hours" override switch programmable up to 2 hours.
Input switch configuration - 2 wires (no indicators) or 4 wires (LED indicators)
Bi-Color LED switch indicator - red and green
Input quick connection - spade connector
Space saving size - 16" wide x 61" high
Network capability with no additional hardware
Non-volatile memory
Central control - upload/download system parameters
Sequential on/off control circuits to avoid load demands
Click here to view a shop drawing.